Never Miss

Any Important
Email Communications Again
Undoubtedly, email is a crucial tool used by a Business for communication and marketing purposes. Email has become one of the major sources of marketing for many companies.
If you are a start-up business, using cheap shared hosting for email and web hosting services can be cost-effective. But for the growing business cheap email services are not be enough to meet their highly confidential and more serious Email communications.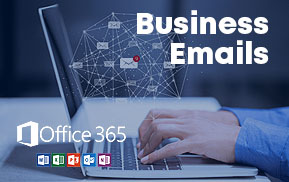 Work Remotely
GIVE YOUR VIRTUAL TEAMS ACCESS TO THE TOOLS AND TECHNOLOGIES NECESSARY TO WORK EFFECTIVELY ON THE GO.
One of the main advantages of Office 365 is that it allows users to work from anywhere as long as they have internet connectivity. Because Office 365 is entirely cloud-based, emails, files, and popular Office programs (such as Word, PowerPoint, and Excel) can be accessed from any location and any device. This is especially beneficial for companies with a lot of employees who work remotely or travel often.
Adequate Email Storage
YOU GET ADEQUATE STORAGE SPACE TO STORE YOUR HISTORICAL EMAILS WITHOUT THE "MAILBOX FULL" MESSAGE
With Microsoft Office 365 Basic Package, each email user will get up to 50GB of Email storage + 1TB of file storage that is available as OneDrive for Business and SharePoint, with a 99.999% uptime. Microsoft's cutting edge architecture ensures that your data is always safe and always available.
Integrated File Storage and Sharing
WITH 1TB OF STORAGE SPACE AVAILABLE TO EACH USER, IT IS EASY TO SECURELY SHARE DOCUMENTS AND FILES WITH YOUR TEAM MEMBERS
With OneDrive for Business, your employees will be able to access all their files no matter what device they're logged into, whether it's a Windows, Mac, or mobile device. They will also be able to securely share files both inside and outside your organization to keep business running smoothly.
With SharePoint, you can share and manage your confidential documents, files, and applications through secure portals to enhance team collaboration. Whether employees are working remotely on a project or you're sending content back and forth with a client for edits and approvals.