Is Your Business Protected

From Rapidly-Evolving Cyberthreats?
Hackers work 24/7 – can you keep a constant watch on your systems? If you think hackers are not after your data, think again. Small businesses are the richest targets because most of SMB's security can be easily breached. If your data is breached, how your business is going to tackle the consequences.
Multi-Layered Security Defence
Since threats rapidly evolve, we focus on multiple layers of cybersecurity protection, starting with a strong network perimeter, including managed firewall, active network management, and periodic network inspections. We then add on proactive monitoring of your systems, including anti-malware and anti-virus software, DNS filtering, and anti-spam protection. Finally, we recommend that clients invest in security training for your staff — your team is your first and best line of Cyber Defence.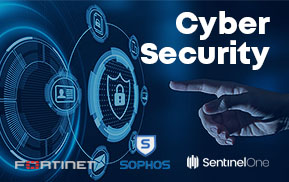 Firewall And Antivirus Protection
BLOCK THREATS BEFORE THEY PENETRATE INTO YOUR NETWORK.
The first line of defence for your organization's network is its firewall. It acts as a bouncer, keeping out threats that attempt to infiltrate the network. A firewall is absolutely essential to maintain proper network security. Antivirus solutions, on the other hand, are designed to destroy malicious entities that currently reside within your network. A combination of the two can go a long way toward keeping your network free of potential threats.
Spam Filtering
BLOCK TIME-WASTING SPAM AND HARMFUL PHISHING EMAILS.
Your organization receives spam every single day, and because of it, your ability to stay productive and secure is under siege. Spam is a primary mode of transportation for viruses and malware, as well as phishing scams that attempt to coerce login credentials or other important information from your employees. In order to guarantee maximum security for your business, you need to block spam completely.
Studies show that there are significant threats at work both inside and outside of your network. We integrate a powerful spam blocking solution that suits your budget and prevents spam from reaching your inbox in the first place. This cuts the downtime you have to spend weeding it out of your inbox and eliminates the chance that your employees put your network at risk due to phishing attacks.
Content Filtering Solutions
KEEP YOUR USERS FROM ACCESSING UNSAFE WEBSITES.
Viruses and malware aren't just contracted from infected emails. You can receive them simply from visiting unsafe websites that are designed to spread these threats to visitors. Threats are often found on the types of websites that your employees shouldn't be visiting anyway, like those that contain adult content. Ultimately, it's in the best interest of your company to avoid visiting these sites, as they can waste time and have disastrous effects on your network security.
With the help of enterprise-grade Content Filtering Solutions, prohibiting access to certain sites on a per-user basis effectively enables you to block access to specific content for specific users that might be making a habit out of it. One real-world example of comprehensive content filtering is blocking social media for all of your staff but your marketing department, who might need to access Facebook, Twitter, or YouTube for outreach purposes.